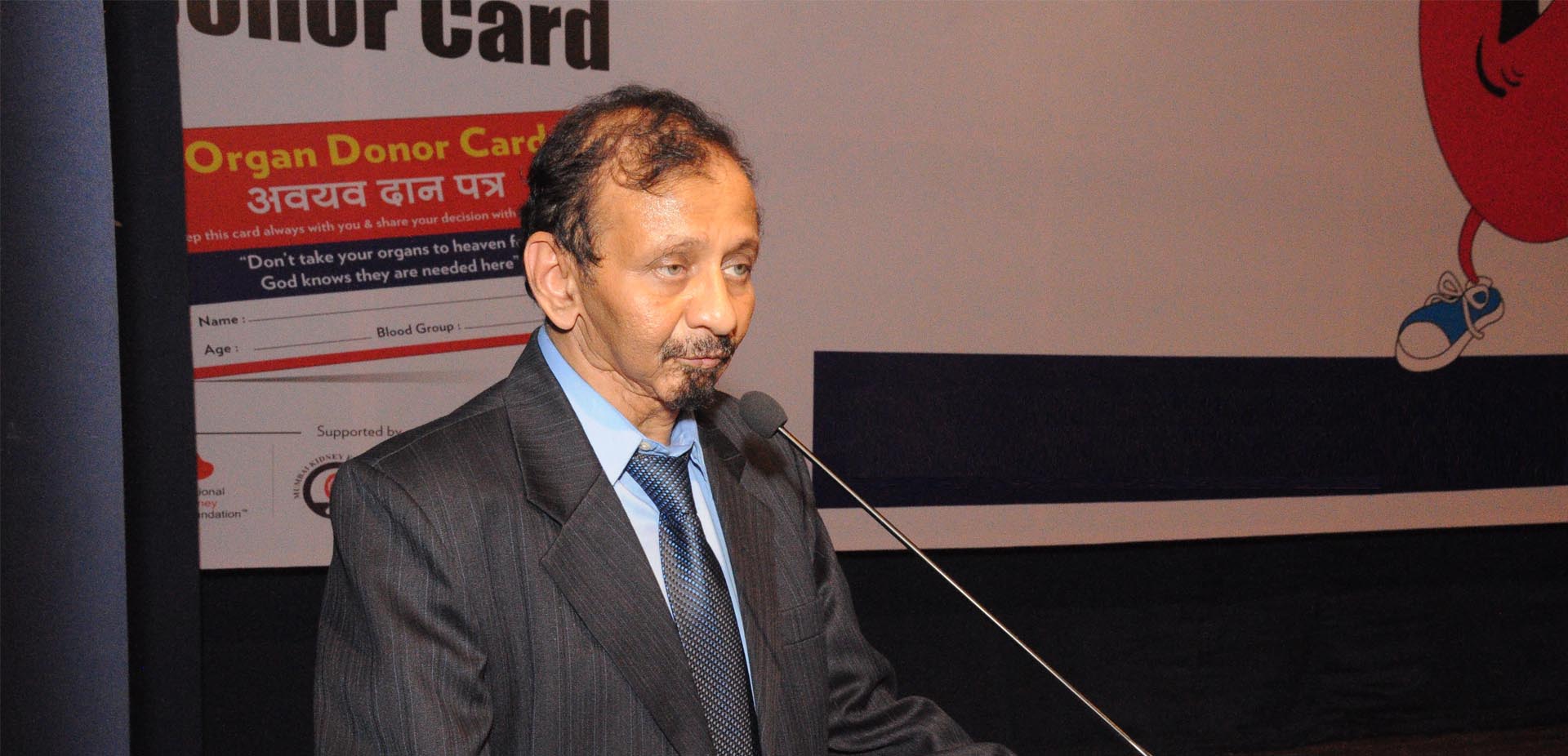 ABOUT THE FOUNDATION
Narmada Kidney Foundation (NKF) is a registered Non-Governmental Organization (NGO) set up in 1993. The foundation was set up in memory of Dr. Bharat Shah's mother Mrs. Narmada Vallabhdas Shah who was very keen on her son becoming a doctor to alleviate suffering of many due to health-related problems
Seeing the rising incidence of chronic kidney disease (CKD), it's devastating medical complications and its economic as well as social implications, Dr. Bharat Shah, wanting to fulfil his mother's wishes set up the foundation with the support of his wife Dr. Mita Shah, other family members and like-minded people. The foundation believes that knowledge is strength supreme and sharing knowledge will help achieve our following mission:
Help people take care of their kidneys and prevent kidney diseases.
Help patients and their families understand kidney diseases and the options available for treatment.
Provide a support group for kidney patients to help them cope with the disease.
Promote living and cadaver donor organ transplantation for those with end stage kidney disease and end stage disease of other organs.
The foundation organizes various programs to meet its objectives and has reached out to thousands of people and their families ever since its inception.
The major programs at a glance are:
Awareness Programs –The Foundation organizes Kidney disease awareness talks on an ongoing basis for its members and the general public. Every week a kidney workshop is conducted at Global hospital (Wednesdays, 12.30 to 2.30 pm) and Anil clinic (Saturdays, 10 am to 11 am) to guide patients with kidney disease.
Programs on World Kidney Day: " Every year on World Kidney Day (2nd Thursday in the month of March) programs are organized to highlight a specific aspect of the Kidney for the general public and patients.  Of course, awareness is also created about organ donation. This is done by way of skit and short film competitions.
Organ Donor's Day: This unique and special program was initiated by the Narmada Kidney Foundation on suggestion of Mrs. Harsha Deshmukh, one of the founding members of the foundation to acknowledge those who have given a Gift of Life by donating their kidney. This day is celebrated every year on 30th November as Organ Donors day since 1997. The celebrations on this day include felicitating each donor with a trophy. Family members who have consented to donating their near and dear ones organs after their death are also honoured on this day.
Prevention & early detection camps – Regular screening camps are conducted for general public (normal population) in order to detect the presence of kidney disease or any risk factor like diabetes and high BP for development of Kidney Disease.
Promotion programmes for cadaver organ donation – The foundation works actively with other organizations, NOTTO (National Organ and Tissue Transplant Organization), ROTTO (Regional Organ and Tissue Transplant Organization) and SOTTO (State Organ and Tissue Transplant Organization) in its endeavour to promote cadaver organ donation and to spread awareness amongst the masses by putting up

Exhibition stalls at various exhibition sites,
Banners on Cadaver organ donations are displayed at various local railway stations & BEST Buses,
Lectures on cadaver organ donation at various places in the city
Awareness drives in number of schools & colleges.

Transplant Games: the first Transplant Games were organized in 2008 for organ donors and recipients in Mumbai. Since then the Transplant Games have grown every year with participation of transplant patients from all over the country. The mission of the Transplant games is to show everyone that Life of both recipients and donors, after a transplant can be healthy and active.
Other support services provided by the foundation
Diet for Obesity, Diabetes, Hypertension and Kidney Patients – To increase awareness about the dietary modifications required for affected patients, the foundation regularly organizes Diet Camps/ workshops for its members. Obesity, diabetes and hypertension are leading causes of kidney disease and cardiovascular disease. Guiding people about healthy dietary habits cam go a long way in preventing and treating obesity, diabetes and hypertesnsion which account for almost 50-60% of cases of chronic kidney disease.
Subsidized rates for Medicines – The foundation offers various Medicines, vaccines and glucometers at subsidized rate for the foundation members.
Support for Kidney transplant patients- The foundation provides support to deserving transplant patients by providing laboratory tests and post transplant immunosuppressive drugs at concessional rates.
Free Vaccinations- The Foundation also organizes free Hepatitis B vaccinations camps
Guidance and social support- The foundation runs a Guidance cell for Kidney patients, a marriage bureau for kidney patients, organizes various competitions and contests for its members as well as arranges entertainment programs and picnics for them.
Publications through the foundation-
– Quarterly Newsletter- A quarterly newsletter Kidney Care is published by the Foundation which shares invaluable information on all aspects in relation to the Kidney.
– Under the aegis of the Foundation three books have been published so far
Kidney Failure – A guide for patients and their families
Transplantation – A Gift of Life
Diet in Chronic Renal Failure
In the near future Narmada Kidney Foundation is looking at
Providing temporary accommodation facility for patient & family coming to Mumbai from other places for treatment
Approaching the Government for the following exemptions under Income Tax
Granting 100% Income-tax deduction on the expense involved in treatment of kidney failure patient with dialysis and transplantation.
Total exemption on sales tax on equipment and drugs used in treatment of patients with kidney failure.
A greater financial support to transplant patients from the Chief Minister's and Prime Minister's relief fund.
To learn more about Narmada Kidney Foundation, please visit www.narmadakidney.org