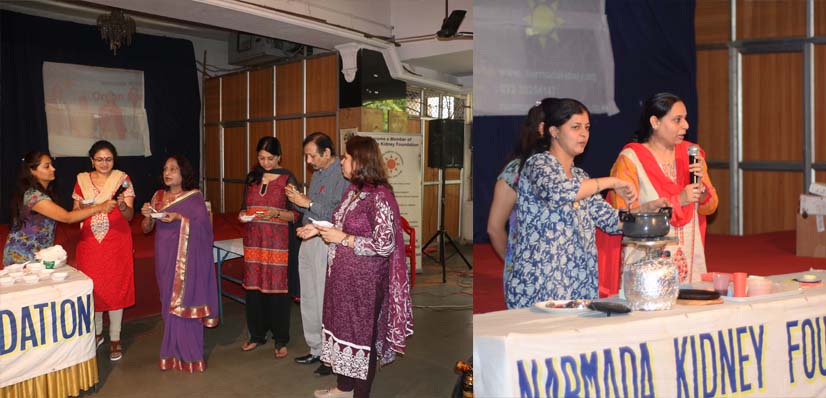 Recipe Corner
Narmada Kidney Foundation had organized a Diet Workshop in association with Global Hospitals, Mumbai and Indian Dietetic Association, Mumbai Chapter for Patients with Obesity, Diabetes and High Blood Pressure. A cooking contest was also organized in which patients and Nutrition and Dietetics Students participated. Around 80 Students and 50 Patients took part in the cooking contest. This year we had a Live Demonstration given by a NKF Member Ms Payal Patel. She demonstrated how to make Sizzler. This was served to patients.
Recipe:
VEGETABLE SIZZLER
VEGETABLES FOR THE MAIN COURSE
Peas, Beans, Cauliflower, Carrot, Mushroom, Cabbage, baby corn (par boiled) Onion rings sauté in butter. Keep all the vegetables separately
VEGETABLE CUTLET
Boiled & mashed potatoes   : 250 gm
Peas boiled, finely cut, Beans, grated Carrot :  1 cup (all three mix)
Green chili paste, garlic paste, Amchur powder : as per taste
Corn flour for binding  : 2 tbsp
Mix all the ingredients and give shape of cutlets and bake the cutlets.
INGREDIENTS FOR SAUCE (one plate of sizzler)
Butter    : 1 tsp
Onion (chopped)  : 1
Medium size Tomato    : 3
Garlic (finely chopped): 3 tsp
Brown sugar   : 1 tsp
Pepper powder   : ½ tsp
Vinegar    : 1tsp
Chilli flakes   : ¾ tsp
Mustard paste   : ½ tsp
Worcestershire sauce:  1 tsp
METHOD
Blend the tomatoes and strain the mixture in a strainer.
In a pan melt the butter and add chopped onion and sauté for 3-4 mins.  Add chopped garlic and sauté for 2 mins.
Add brown sugar and cook till it caramelizes.
Add the tomato mixture and cook for 5 minutes.
Add vinegar, mustard paste, Worcestershire sauce, chilli flakes and pepper powder.
Add ½ cup water or vegetable stock and cook for 5 minutes
OTHER INGREDIENTS AS PER CHOICE (Optional)
Cooked rice   : 1 cup
Tofu sauté on pan   : ¾ cup
METHOD FOR ARRANGING THE SIZZLER PLATE
Heat the sizzler plate on gas for 10-15 minutes. Spread cabbage leaves on the plate.  Put one portion of rice/paneer, onion dices, peas, carrots, baby corn, mushrooms, cauliflower, cabbage, blanched spinach.  Pour sauce on the vegetables. Mashed potatoes can be used instead of cutlet or French fries.