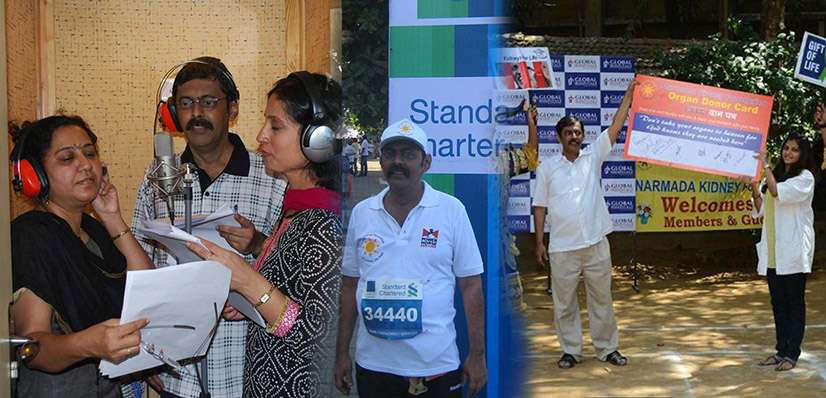 REINVENTING LIFE
An Engineer, a writer, an actor, a director, a travel enthusiast, a sports person and a kidney patient!
It is difficult to believe that a kidney transplant patient like me can do so many hats. I am not surprised when at times I am asked 'who is the patient' by people who do not know me. In fact I am glad that I can do so much despite missing one important organ in my body and having borrowed another.
When I underwent a transplant, I too, like every patient was worried. But if there is anything I believe in, other than the power of the Almighty, is the saying 'Where there is a will, there is a way'. Every person has some or the other shortcomings. How we perceive our physical inadequacies is what governs our actions and behavior in future. I believed that I could do all that and a lot more even after the transplant and thus I am here today. I had 2 options – to draw into a shell and live each day fearfully or to face & conquer each day to live. I chose to do the latter.
The moment I left the hospital, I knew it was my new life and I had to start afresh. Within 6 months of my transplant, I played my first ever table tennis tournament and reached the finals! That motivated me to do even more and ever since I have been unstoppable. The next 2 years I won medals in the table tennis competition at transplant games. Within 8 months of my transplant, I participated in the Standard Chartered Mumbai Marathon Dream Run for Narmada Kidney Foundation.
Within 9 months of my transplant, I wrote a book on my experiences. I wanted to motivate my fellow patients and give them hope for a bright future. I am now the author of 2 published books. And there is still the ambition to write more.
Within a year from the transplant, I was doing everything that a 'normal person' can do. I acted on stage, arranged plays for Narmada Kidney Foundation and was even a part of radio and TV  shows.
I live like any common man. I change 2 buses to get to work, travel from one end of the city to another, and do tours for project work. I walk back home from my bus stop which is a good 15-20 minutes of exercise one way. On weekends I go for a walk to Shivaji Park or within the vicinity.
On personal front, the transplant has not stopped me from spending time with my family. I go shopping with my family. I attend all the family events where I participate in the cultural activities such as a short play or I compare the event. I even go on vacations with my family – recently I travelled to Nairobi Kenya to meet my daughter and even did a wild life safari there.
If there is anything that this transplant has taught me, it is that illness is a state of mind. A strong mind and will to do more is all it takes to reinvent your life. I live every moment of my life to the fullest because I know what it means to lose life. And now that I have got a second chance, I wish to add much more to my achievements and live a happy and a healthy life!
Written by: DNYANRAJ PATKAR