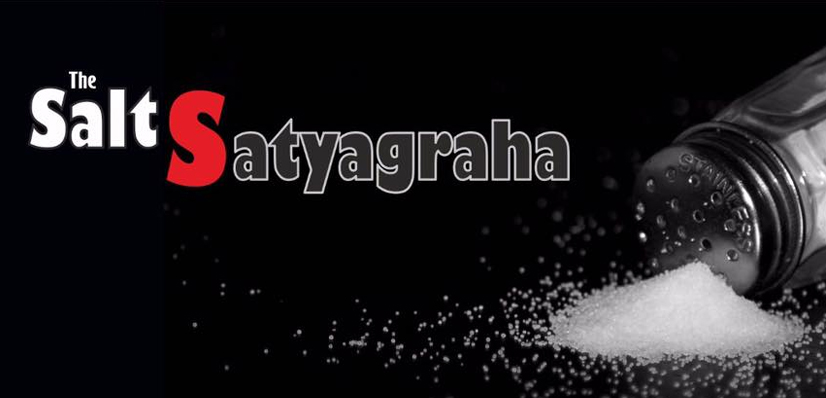 THE SALT SATYAGRAHA
Just like Mahatma Gandhi led the 'Salt March' as an act of non-violent civil disobedience,  several group of doctors, NGO'S and dieticians have decided to lead the 'Salt Satyagraha'- an attempt to get the government to adopt a slew of measures that may reduce the average Indian intake of seasoning. A first program of its kind, it is an initiative to cut down the intake of salt in the society to reduce the growing incidence of hypertension, kidney disease, heart disease and stroke. About 9.8 million people die every year due to hypertension related complications. Yet we take it with a pinch of salt!
Dr. Graham McGregor, Chairman and Architect of NGO WASH (World Action on Salt & Health), a world-renowned Authority on Salt Fight, has successfully led the campaign in Europe and will now take it further in India. In India COREP Trust organised the program in association with Narmada Kidney Foundation, Amar Gandhi Foundation, Mumbai Kidney Foundation,, Mumbai Nephrology Group, Nutrition at SVT college, SNDT Women's University, Mumbai Sapiens Health Foundation, Rotary club(District 3141) which was held on 12th November, 2017 at IIT Powai. The event aimed at creating awareness about the need to regulate salt consumption. In addition, the Indian Dietetic Association (IDA), highlighted the high salt content in Indian foods and suggested practical solutions to minimise salt intake; these include substitutes like dry mango powder, tamarind, lemon, tomatoes etc. Salt awareness is important in order to lead a healthy life. It is the need of the hour.
Excessive Salt intake can give you a Heart Attack!
Hypertension (or High BP), is a silent killer and a leading cause for non communicable diseases like heart disease, kidney failure and strokes. Over 35% of the world population above the age of 25 yrs suffers from hypertension. The single most significant cause for hypertension is excessive salt intake. The average intake of salt in the Indian diet is 2 to 3 times above the permissible limit of 5 grams per day.
If you want to avoid these diseases, you have to avoid consuming excessive salt RIGHT NOW!
Your packet of bread may display nutritional details such as energy, protein, carbohydrate and fat content, but is mostly silent on salts. After studies established that bread and biscuits — in fact just any processed food — may have more salts than, say, a packet of wafers, a group of doctors and scientists from IITs are joining hands to lobby with the government to make it mandatory for packaged food to spell out salt content.
Salts or sodium added to food include sodium bicarbonate, monosodium glutamate and sodium lactate, besides sodium chloride (table salt). Although the body needs salt for functions such as maintaining blood pressure and transmission of nerve impulses, most Indians take too much of it, leading to high blood pressure and increased risk of strokes, some types of cancers, heart and kidney diseases. While the WHO recommended intake for sodium is 2g and that of common salt is 5g, studies show Indians on an average consume 10.98g of salt every day.
FSSAI, which makes it mandatory for packaged goods to display nutritional facts, doesn't insist on information on salt. A few products that list salt usually report it as sodium per 100g. "If there is 6 g of sodium in 100 g of food, you multiply it by 2.4 to get the salt in it, but you still wouldn't know how much salt a slice of bread has." Our government should bring in standards for salt use.